Product Name: YITI
size 3 empty capsules
Product Description: YITI size 3 empty capsules are designed for individuals who prefer to take supplements in capsule form. These empty capsules are suitable for all types of supplement formulations, including vitamins, minerals, herbs, and more. They come in three different sizes to accommodate various dosage requirements.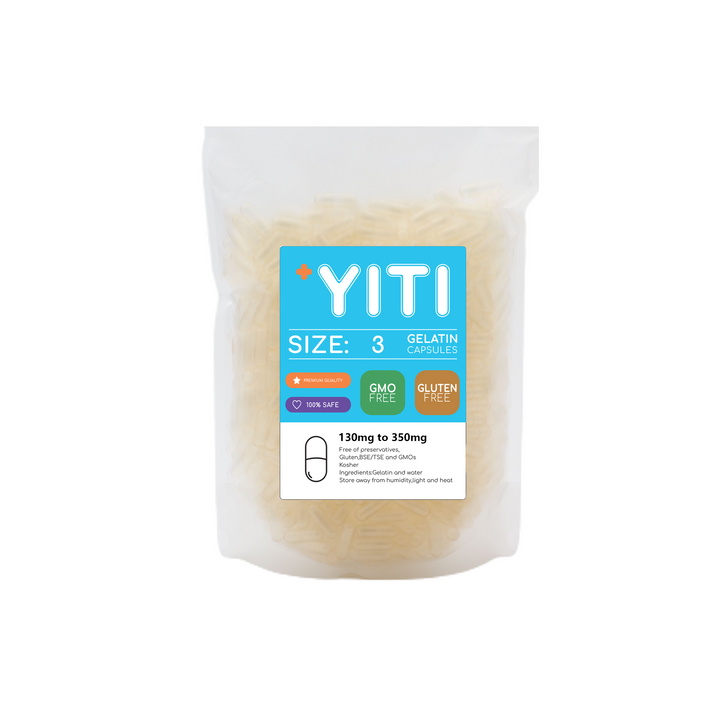 7 Features of
size 3 empty capsules

:
Three sizes available: small, medium, and large
High-quality empty capsules made from food-grade materials
Easy to fill with your preferred supplement formula
Can be used for both human and animal consumption
Non-toxic and safe for long-term use
Ideal for individuals who want to avoid the taste or smell of their supplement formula
Can be easily stored in a dry and cool place
how to Usage
size 3 empty capsules

:

1. Clean the empty capsules thoroughly before filling them with your desired supplement formula.
2. Use a clean and dry measuring tool (such as a scale or spoon) to measure out the correct dosage of your supplement.
3. Fill the empty capsule with the appropriate amount of supplement powder or liquid. Be sure not to overfill the capsule.
4. Close the capsule by gently tapping it on a flat surface until it forms a tight seal.
5. Store the filled capsules in a cool, dry place away from direct sunlight and heat sources.

YITI 3-Size Empty Capsules are perfect for anyone looking for an easy and convenient way to take their supplements. With three different size options available, you can find the perfect fit for your needs. Order your YITI empty capsules today and start enjoying the benefits of a healthy lifestyle!